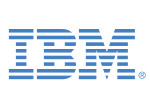 IBM Deutschland GmbH
From digital business to cognitive business – to assist companies of all sizes with the digital transformation of their business models and to harness the opportunities that digitalization offers them, IBM is focused on the growth initiatives Business Analytics, Cloud Computing, Security and AI.
IBM provides a cloud platform with cognitive capabilities to help developers build and run modern apps and services quickly and easily. With services across Watson, IoT and more, IBM presents developers with instant access to services they need and is ideal to power the next wave of apps that thrive on data.