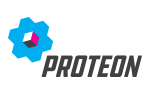 Proteon
Encouraging businesses to utilise the DevOps principles
Flexibility to innovate is crucial to the future success of any business. You can deliver your software applications to production faster and with confidence using DevOps principles. Optimise your delivery process, increase customer value and improve the productivity of your team in the critical service path. DevOps principles are built on streamlined processes and a culture of collaboration to achieve a quick feedback loop and fast innovation.
At Proteon, we look beyond technology and focus on the experiences of employees and end-users. We believe that by utilising DevOps principles, businesses can unlock insights leading to innovative solutions enabling higher efficiency at a lower cost. With DevOps Services we help companies to adopt the DevOps way of working through consultancy or managed services.
Learn more about us at www.proteon.com or visit our stand at DevOpsCon.